Did you know you can write a testimonial for us on Facebook too? Click here to add one now!
Click on the Gold Seal below to view more testimonials!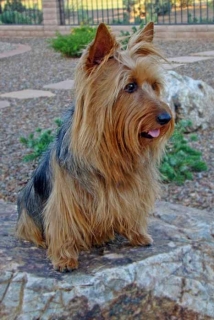 Lauren & Barbara Hillquist
We have been clients of the Animal Care Center since early 2003 – first with Missi, our Lhasapoo, and now with Sadie, our 4 year old Australian Terrier.
The professional skill provided both of them – as Missi aged and with Sadie from when we first brought her home as a small puppy – has been been outstanding. And, more than that, the compassion and caring is something we always remember. The veterinarians and their respective staff counterparts are outstanding.
But it goes beyond that – the administration personnel, the front desk personnel and the boarding personnel round out what we feel is the best facility of its kind we have ever experienced. And, having had dogs since the 70's and experienced many veterinarians in several states, we feel we are in a position of making a fair evaluation.
Lauren & Barbara Hillquist
Charlene Anzalone & Millie McManus
Thirteen years ago we came to Green Valley and found Animal Care Center for our puppies that were 6 months old. Dr. Murray has been their primary care veterinarian from the beginning. The entire staff is friendly and caring and is always willing to help whenever asked. We have had emergencies and have been seen immediately. Dr. Humphrey has been there for us during these emergencies. We cannot imagine trusting "The Girls" to any other facility. Animal Care Center is extended family and, in our opinion, they love the Girls almost as much as we do.
Charlene Anzalone & Millie McManus
Danae M., Miau, Percy and Zena
"Dr. Hilden has treated my kitties for a number of years. Dr. Hilden is the cats' "meow!"
Danae M., Miau, Percy and Zena
Tina, Jace & Merlin P
Dr. Andrea Hilden is one of our heroes. She has been with us through thick and thin caring for our dear dogs. Two have transitioned recently and she took care of them throughout their lives. Wendy and Bailey loved Dr. Hilden and our newest edition Merlin crawled up into her lap immediately. What sets Dr. Hilden apart from other veterinarian's is that she is not afraid to show emotion. When she hugged our dogs like we do, we knew she was the one to help them and us. Whenever there is a health issue, she will always get to the cause and treatment through her extensive testing and keen intuition. When our dogs become too old to make the trip to her office, she kindly came to see them. We can't thank her enough for her brilliant skills as a doctor and her loving heart.
Green Valley Animal Care Center is a wonderful and caring place to take your animals. Even though we live in Tucson, we choose to travel to Green Valley for our dog's health care. This is a testament to their professionalism and dedication. Many a day their special staff has gone the extra mile to put medicine in the mail for us or actually delivered food when we could not make the trip from Tucson. We highly recommend them. We always know we will get in right away and receive the best care possible.
Tina, Jace & Merlin P
Sammy Cat S, Owner of Terri and Joe S.
Hi, Everyone! My name is Sammy Cat and I have been going to the Animal Care Center of Green Valley for all of my medical needs. Dr. Andrea Hilden is a fantastic doctor and treats me with love, compassion, and respect. I especially love it when she picks me up, kisses my head, and says that I am a handsome boy! (Even though some things go without saying!) Recently, I have been going in twice a week to get Adequan shots because I have painful arthritis in my front elbow and my rear hip. I also have been getting acupuncture treatments because I have a problem with constipation and that makes a kitty very grumpy and uncomfortable. Boy, am I feeling better now! Thanks to Dr. Hilden's knowledgeable suggestions, I am more comfortable with my arthritis and can go when nature calls. I would definitely recommend going to the Animal Care Center of Green Valley for your pet's medical needs. I give them two paws up!!
Sammy Cat S, Owner of Terri and Joe S.
Jack & Ruthann Wingate
In 1989, my wife, our two Brittney's , Stormy and Windy arrived in Green Valley for our first "snow bird winter". Coming from Northern Michigan it did not take us long to realize that we had arrived in Paradise! From the very beginning, we knew we had to find a "vet" who would take of our girls. In those days, Animal Care Center was located in the Continental Shopping Center. A very small business but wonderful to us and our "girls". Since then Animal Care Center has taken care of Sunny, Breezy, Frosty, Izzie and Annie. We have used Animal Care Center for every need that we have ever had for our pets, from medical care, preventative health care, surgeries, and kenneling. Our girls love spending time at The Animal Care Spa as it is called at our house. When the suitcases come our girls know they are in store for a treat. As soon as the car stops at the four corners they start barking and panting until they get into their "home away from home". All the staff have been wonderful to us through the happiest of times and the saddest of times. Green Valley is so fortunate to have such a wonderful state of the arts veterinary clinic to take care of our needs whatever they might be. We consider everyone there as part of our family and recommend them highly for whatever your needs might be.
Jack & Ruthann Wingate
Thirza C, and the Border Collies Deke, Aero & Taz-Zee
Our family of rescued Border Collies has been cared for at The Animal Care Center of Green Valley since 2008.  From routine annual exams, valley fever treatment, and emergency surgery to life saving treatments.  Dr Dan, Dr Jean and VT Cheryl have seen us through good and difficult times with thorough and conscientious care.  They have given me advice and guided me through important decisions all with calmness and compassion.  The Doctors provide callbacks following tests and treatments reporting results with detailed explanations, and checking on treatment progress.  Deke came down with an acute illness he was diagnosed immediately and subsequent treatment saved his life.  Dr Jean understands that taking care of a pet also means taking care of the pet's owner.  I entrust the Doctors and their team implicitly for the care of our fur family and highly recommend them.
Thirza C, and the Border Collies Deke, Aero & Taz-Zee
Connie B.
I can't say enough good things about Animal Care Center of Green Valley!  I have taken my cat and dogs there for several years now, and the care that they have received has been outstanding.  The front desk staff and vet techs are very friendly and do everything within their power to accommodate our needs.  The veterinarians are very knowledgeable and compassionate, and they take the time to listen as well as fully explain the diagnosis and treatment options. Their facility is very clean and they use state-of-the-art equipment and technology.
Most recently, I have had the opportunity to work with Dr. Jean Huang to treat my cat, Butters. Dr. Huang is a wonderful vet who is dedicated to providing her patients with the best care possible.  Dr. Huang keeps herself up-to-date on the latest research and is always available to answer concerns or questions.  She is an excellent communicator and always follows up in a timely manner.
Thanks to the entire staff at Animal Care Center, I am confident that my animals are receiving the best care available.
Connie B.
Casey and Scottie – Sport and Dyna
Over the years we have had many dogs, lived in many places and have seen many veterinarians. Dr Hilden and the staff at Animal Care Center are absolutely the best! Dr Hilden listens, she cares, and she has demonstrated that she is an outstanding doctor! Sport and Dyna love to go to the vet, they race into the clinic and it is kisses they give to Dr Hilden!
We appreciate the holistic integrated approach that Dr Hilden uses. We firmly believe that Sport is with us today because she identified his very early Valley Fever symptoms and offered a combination of traditional pharma therapy combined with immune boosting supplements, the result is we have a happy healthy Schnauzer. Not to be outdone by her brother, Dyna presented with a pulled neck muscle, her symptoms were very strange, but once again, Dr Hilden listened and carefully observed and was able to diagnose the problem, laser treatment did the trick and we are back in business.
Thank you Dr Hilden and staff for caring so much and so well!
Casey and Scottie – Sport and Dyna
 Jim and Gwen Mowat
When we had our first appointment with Dr. Hilden at Animal Care Center, we brought in a very sick nine year old dog, Zack.
Through meticulous testing a diagnosis of diabetes was determined.
During the process of stabilizing him on insulin a surgery was required on some very bad teeth which were a source of constant infection. They were removed by Dr. Murray and through very careful treatment he is stabilized and his diabetes is very well managed.
Though Zack has a few ongoing issues because if age, (he is 11 now), and the diabetes, each issue is addressed with the same professional approach. We feel the proper testing and diagnosis has given Zack not only quantity of life, but "quality" of life.
Thank you Dr. Hilden and Dr. Murray and all of the Animal Care Center staff for such wonderful care.
Jim and Gwen Mowat