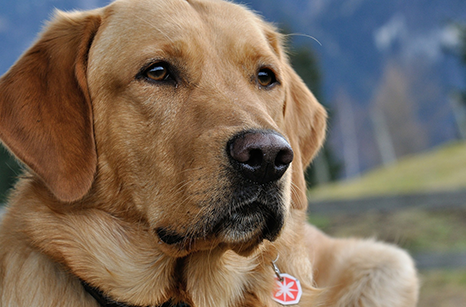 Here at the Animal Care Center we have a wonderful climate controlled boarding facility to make your best friend feel right at home. We have 12 indoor only runs and 12 indoor/outdoor runs with doggie doors. They can come in and out freely throughout the day until bedtime when those doors are closed. The indoor runs are 3′ (w) x 5′ (l) x 6′ (h). Outdoor runs have an additional 3′ (w) x 13′ (l) x 7′ (h) outside and each has a misting system. Outdoor runs are first come first serve, so call to make your reservation today!
The kennels have two large fans that run at all times to create white noise during those scary monsoons and for increased air flow and circulation! Your dog(s) will be taken out twice a day for potty and play time breaks.
We always recommend bringing your pet's own food while boarding, especially if they are on a prescribed diet. We gladly offer Hill's Prescription Diet Sensitive Stomach and Skin and Hill's Science Diet Wet food at no extra charge. We have a refrigerator for items that need to be kept cold and a microwave for a warm meal if that is desired.
You may bring your dog's own toys/bedding; however, your dog is more than welcome to use ours at no additional cost. All you need to bring is their leash and collar and we'll gladly hang on to it until their departure!
If your dog is on medication, we'll make sure to administer up to 4 meds free of charge. There is a small fee for 5 or more meds daily. Please be sure that all medications arrive in their ORIGINAL, LABELED bottle. We will also give your diabetic dog their insulin for a small fee.
We do REQUIRE the following vaccinations be up-to-date and given at least 5 days prior to boarding: Bordetella (Kennel Cough), Adult Combo (Parvo/Distemper), and Rabies Vaccination.
If you need a last minute stay for your pet, but they are not current on their vaccines, we offer isolation boarding subject to availability.
CANINE ENHANCEMENTS
Dogs staying 5 or more nights will receive a complementary bath the night before they go home!
Play Times $9.00
If going out twice a day is not enough for your doggie, we'll gladly take them out for an additional playtime that will be 30-45 minutes of supervised outside playtime! During the hot months, they are taken out earlier in the day to beat the heat outdoors!
Snuggle Time $9.00
If your love bug would be quite content to sit in someone's lap all day, then snuggle time is perfect for them. They'll get half an hour of one on one people time including getting brushed, loved, and snuggled.
Day Camp $20.00
For our extremely playful, social, and hyperactive dogs, you have the option to let them play with our daycare dogs! In daycare, they play all day with access to an indoor climate controlled room, a pool during the hot days, and of course, lots of toys! They are always supervised and are ready for bed at the end of the play day! Day Camp is only M-F.
Treat Filled Kong $5.00
For our easily bored dogs, we happily provide treat filled kongs before our departure at the end of the day! You can choose from peanut butter, treats, frozen water, frozen chicken broth, and pumpkin! It's a nice way to get their minds off missing you and just focus on a yummy snack!!
Picture Package $9.00
Do you love pictures of your pets as much as we do? With the picture pack you'll get 4-12 pictures emailed to you and printed into a picture book to take home!
Baths Small: $30.00 Medium: $33.00 Large: $36.00
If your pet isn't here long enough to get the complementary bath, you can ask for a bath before they go home. We give them their shampoo and conditioning baths the day before you pick up, that way they are dry, done shedding and clean when you take them home. We will gladly use your shampoo and conditioner if you prefer, otherwise we will use a hypoallergenic shampoo and conditioner.
Nail Trims $18.00
If your doggie is due for a pawdicure, we'll gladly trim those nails for them upon arrival for their comfort and safety. We'll also do a half charge for front or rear only trims!
Express Anal Glands $27.50
If your pet is due for their routine anal gland expression, we can have it all taken care of for you before they go home.
DOG BOARDING RATES
First Dog- $35.00 per night
Additional Dog(s)- $30.00 per night each
Day boarding only- $20.00 per day
Isolation boarding- $66.00 per day
Due to COVID-19 we are not offering tours at this time.
*Prices are subject to change.