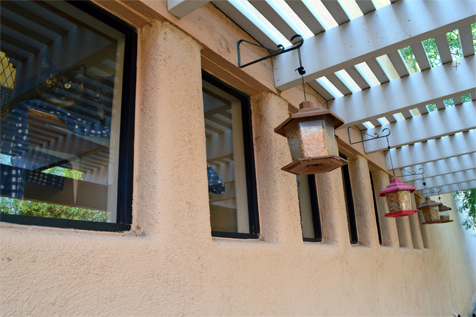 We have 14 climate controlled cat condos with some that offer bird feeder views for your cats' enjoyment throughout their stay. Condo sizes are: 2 1/2′ (w) x 2 1/2′ (l) x 6′ (h). We offer single units, double units, and a penthouse unit. They all include ledges for your cat to enjoy the view.
We always recommend bringing your pet's own food while boarding, especially if they are on a prescribed diet. We gladly offer Science Diet Sensitive Stomach at no extra charge. We have a refrigerator for items that need to be kept cold and a microwave for a warm meal if that is desired.
You may bring your cat's own toys/bedding; however, your cat is more than welcome to use ours at no additional cost. All you need to bring is your carrier that we will keep with us until your cat's departure!
If your cat is on medication, we'll make sure to administer up to 4 meds free of charge. There is a small fee for 5 or more meds daily. Please be sure that all medications arrive in their ORIGINAL, LABELED bottle. We will also give your diabetic cat their insulin for a small fee.
We do REQUIRE that the following vaccinations be up-to-date and given at least 5 days prior to boarding: Feline Adult Combo and Rabies Vaccination.
FELINE ENHANCEMENTS
Bustin' Loose $6.00
Since cats are so used to roaming around the house all day, why not let them "bust" out of their condo and explore the cat room? Your cat(s) will be able to explore and play with our tunnels and toys in the cat room.
High Energy Cat Play $9.00
For cats who love to play, this option is perfect. They'll get 20-30 mins of one on one play with toys, laser pointers, cat tunnels, etc.
Kitty Massage $9.00
Why not let your kitty have a nice, relaxing massage while they're here? We have a special massaging brush that we will use to help your kitty relax. Not only does it feel good, but your cat will look great when you pick them up.
Picture Package $9.00
Do you love pictures of your pets as much as we do? With the picture pack you'll get 4-12 pictures emailed to you and printed into a picture book to take home!
Nail Trims $18.00
If your kitty is due for a pawdicure, we'll gladly trim those nails for them upon arrival for their comfort and safety. We'll also do a half charge for front or rear only trims!
Express Anal Glands $27.50
If your cat is due for their routine anal gland expression, we can have it all taken care of before they go home.
CAT BOARDING RATES
Single Unit Boarding- $25.00 per night
Double Unit Boarding- $30.00 per night
Penthouse Boarding- $35.00 per night
Additional cat(s)- $20.00 per night
Due to COVID-19 we are not offering tours at this time.
*Prices are subject to change.