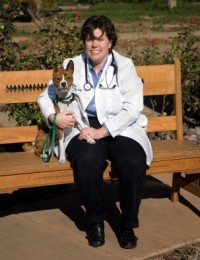 Special interests:
• Attending to the unique needs of cats in the practice "The main reason that most cats do not receive the preventive care they need is the stress associated with visiting the veterinarian. I want to do my best to minimize this stress. You will quickly see that a feline appointment with me is very different than most appointments you've been to with your cat"
• Advances in Pain management for all of my patients.
• Advanced nutritional practices and therapies
• Integrative medical practices including herbal medication, acupuncture and laser therapy
I knew I wanted to be a vet when:
I have had many experiences in my life in which I was called upon to be an advocate for individuals, human and non-human animals. I have a deep appreciation for getting to know someone, including pets, and to see them as a unique and valued individual. I consider it a privilege to be the voice for an animal who cannot speak for themselves; couple that with my interest in biological sciences and medicine, there really was only one profession that could meet all these interests and continually challenge me.
Pets in our lives:
I believe that you can be your pets' best advocate. My role is to give you the information you need to do that. I absolutely believe that we work in a partnership for the well-being of your pet. It is my responsibility to you and to your pet to share with you what I know, to give you the tools and information to help you make the best choices for your furry loved ones.
Education:
Colorado State University College of Veterinary and Biomedical Sciences with honors , 2005
Personal:
Although I am a Tucson native, I have traveled to many places and find that I still love to call the Tucson area my home. When I am not working I spend time hiking and training for and competing in triathlons and 5k races. I am a member of Tucson Trigirls and Southern Arizona Roadrunners.