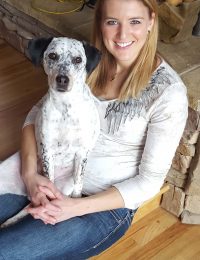 Special Interests:
• All things surgery: I have many loves in veterinary medicine, but few come close to my love of surgery. I love problem solving and the challenge of put things back together. I also enjoy providing routine surgeries and dental services. "A chance to cut is a chance to cure!"
• Genetics and individualized veterinary medicine: I believe we can better serve our animals by treating them as individuals. To understand an animal's genetics allows us to choose treatment options and diagnostics that will fit their specific needs.
• Fostering and enriching the human-animal-bond
• Fear free medicine: I hope to provide calm and comfort for you and your animals at every visit.
I knew I wanted to be a vet:
I come from a family with a strong scientific and medical background–dentists, doctors, nurses, and engineers. I grew up with stories revolving around medicine and animals- my parents met while working with animals and my mother even wanted to be an equine veterinarian! Even when I was a tiny child, I knew science and medicine were for me. People would ask me what I wanted to be when I grew up and, just like many children, I answered "a veterinarian!" I started my undergraduate education and never looked back. I have been lucky enough to achieve this goal and couldn't be happier!
Pets in our lives:
There are no greater loves in my life than my pets. Every person should know the selfless and unconditional love of an animal. I feel truly blessed that I am able to contribute to, and, if I'm lucky, enhance the love and relationships between owners and their pets.
Education:
Washington State University College of Veterinary Medicine, Class of 2016
Personal:
I was born and raised in Missoula, Montana. After completing my undergraduate degree in Biotechnology, I traded the mountains of Montana for the rolling hills of the Palouse in Washington State. After spending a year working as a small animal veterinarian in Montana,
I once again, decided to trade the mountains for a new climate–the desert! When I'm not working, I enjoy adventuring with my three dogs, Jezebel, Fern, and Nino.
Quote:
"When we adopt a dog or any pet, we know it is going to end with us having to say goodbye, but we still do it. And we do it for a very good reason: They bring so much joy and optimism and happiness. They attack every moment of every day with that attitude."
-Bruce Cameron