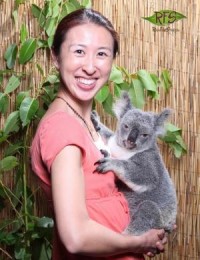 Dr. Jean Huang is a veterinarian with Animal Care Center of Green Valley who treats canine and feline patients and has a special interest in internal medicine and pets with difficult to diagnose illnesses.  (She says: "It's like trying to figure out a puzzle – a 12-sided Rubik's cube!")  Animal Care Center of Green Valley stresses early disease detection, preventive care and pet quality of life through its eight practice teams:  Active Pets & Joint Heath, Early Detection & High Risk, Geriatrics & Arthritis, Allergies & Dermatology, Nutrition, Chronic Conditions, Dentistry & Oral Health and End-of-Life & Hospice.
Pet quality of life:
Ask Dr. Huang what is most on her mind when she treats pets and she will reply, "pain management and implementation of Fear Free practices."   Making sure pain and stress are minimized before, during, and following procedures, and throughout their lifetimes, is not only her responsibility as a veterinarian, but is essential to each pet's recovery, health, well-being, and quality of life.
Experience / background:
Dr. Huang moved to Arizona to join Animal Care Center of Green Valley after working at veterinary hospitals in northern California.  She says she easily gets cold so the desert climate suits her just fine!  Though she originally wanted to be a human medical doctor, Dr. Huang switched to veterinary medicine due to her love of animals.  She is fascinated by medicine and the complexity and constant growth and change of all living beings. She moved to Dallas with her husband in 2017, but is thrilled to be back in the Southwest and at Animal Care Center in particular.
Education:
Doctor of Veterinary Medicine, University of California / Davis, 2003
Bachelor of Science, with honors, in Animal Science, Cornell University
Languages:
English, Mandarin Chinese and Taiwanese
Personal:
Dr. Huang was born in Taiwan and has lived in Georgia, California, New York and Germany.   She says living in different countries has made her more open-minded to other cultures and traditions.
She has two cats and one dog: Cody, a sweet elderly grey tabby; Cleo, a goofy and sometimes clumsy Maine Coon; and BeBe, a lovable Pekingese Dr. Huang adopted from a former client at Animal Care Center.  In her spare time, Dr. Huang can be found at the shooting range, hiking, reading thrillers and romance novels, and lectoring at Mass.  She loves photography, the outdoors of the lower Sonoran Desert, and exploring new places with her husband, Nirmal.
"Animals don't live as long as people because it doesn't take them as long to learn how to live right."