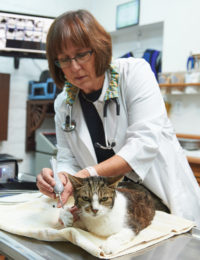 Dr. Jennifer Martin grew up surrounded by dogs and cats, and never forgot the deep comfort and love she felt from those childhood pets. Working in veterinary medicine simply made sense—Dr. Martin has never wanted to do anything else! She has enjoyed many wonderful years helping pets and their families live happier healthier lives.
Dr. Martin grew up in Southern California and attended the University of California at Davis. She has had to opportunity to practice in many areas on the West Coast, and has owned clinics in Oregon and the San Francisco Bay area. She recently moved to Green Valley to be closer to her parents, who have lived here for many years. She is enjoying discovering desert living!
In addition to conventional Western medicine, Dr. Martin has studied traditional Chinese veterinary medicine ("TCVM") at the Chi University (formerly the Chi Institute) in Florida. She is passionate about integrative medicine including incorporating acupuncture into Western treatment plans. Dr. Martin also enjoys geriatric care, and using Fear-Free techniques to help fearful or anxious pets have a better experience in the clinic. Above all, she likes to know that she's making a lasting difference in the lives of pets and their families!
Dr. Martin has two adult children, Marlena and Mick, as well as three wonderful step-children, Claire, Guillaume, and Julien. She and her husband, Francis, share their home with several pets: Felix, a slightly neurotic Terrier mix, a charming retired clinic cat named Miss Gruntle, and Bun Bun the rescued rabbit. In her spare time, Dr. Martin enjoys cooking, relaxing with a good book, swimming, and practicing yoga.