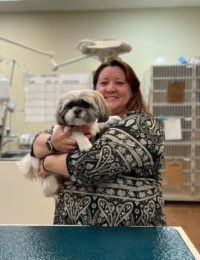 I believe my patients should live their best lives, as comfortably and pain free as possible.  To support this purpose, I think preventative medicine is key.
It allows for early detection of changes consistent with disease which improves the chances that treatment will be successful.
My two biggest passions, when it comes to veterinary medicine, are internal and alternative medicine. I like to bring together western and eastern medical philosophies and practices to offer the best options for my patients and their humans.
I am a certified veterinary acupuncturist (CVMA), and in the future I would like to expand my knowledge in botanical medicine.
Dr. Pedley graduated from Colorado State University in 2004 and came back to Tucson in 2013.  She was born in Colombia, and moved to the states when she was a teenager to pursue her dream of becoming a veterinarian.
The pets in my daily life are three crazy cats (that keep me on my toes), and one Cocker Spaniel.
Recently I read this quote that reminded me of how important pets are in our lives:
"Pets are humanizing. They remind us we have an obligation and responsibility to preserve and nurture and care for all life." — James Cromwell