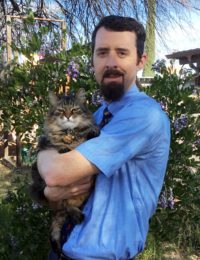 In memory of our Friend and Colleague. You will be missed.
Special interests:
•Tailoring of modern anesthesia techniques to provide confidence in performing high quality care with good outcomes for patients of all ages. It should no longer be in our collective dialogue that a dog or a cat is 'too old' for anesthesia.
•Dental care as part of total patient care. Animals use their mouths for so much of their day-to-day tasks. The pathologies our dogs and cats have vary a lot from the human experience. There are challenges in both prevention and in-hospital treatment to assuring well-being for the pet to have a comfortable and all executive function possible for the mouth.
•The application of Evidence Based Veterinary Medicine for general practice. Research and release of new health related information is on-going and can be confusing. I take interest in going past the headlines to see how confident we can be in the care we provide in getting us true answers in diagnosis and disease resolution or success in disease management.
I knew I wanted to be a vet when:
I had early exposure to veterinary medicine through my Uncle who had a practice in Ohio. I stayed focused on the path to becoming a veterinarian. I have a curiosity and passion for learning about our world and am humbled by how domestic animals let us share in theirs and respond to our medical care.
Pets in our lives:
Pets teach us so many valuable lessons about being human. Pets are a resource of companionship that dates to prior to recorded history. There is a co-evolution which continues to be demonstrated in behavior studies and genetic studies year after year.
Education:
Michigan State University College of Veterinary Medicine, 2001.
Washington State University, Veterinary Teaching Hospital, Internship, 2001-2002.
Personal:
I grew up in the motor city, Detroit, MI. My curiosity about the biological world has me ever-learning. I have companionship of family, dogs and cats. I also get the joy of living with and learning from Guinea Pigs and Chameleons. Outside of veterinary medicine I embrace the Arizona landscape for recreation opportunities on foot, the roads on two wheels 🚴🏼, and the skies for adventure. I continue to aspire to desert gardening; learning from and committing to practices that bring edibles and ecology to the backyard.