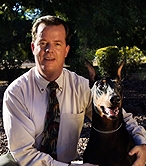 Special interests:
• Surgery in all forms from soft tissue to oral surgery to orthopedic procedures "are my true love". "I have been very fortunate to have been able to perform these procedures for our clients as well as clients referred from other veterinarians."
• Use of ultrasound which uses high-frequency sound waves to capture images and diagnose diseases of the internal organs and deep tissue. "I enjoy using ultrasound, which is an effective and marvelous tool, to figure out more advanced and complicated cases."
• Educating clients about their pet's health. "I enjoy having the time to spend with clients and educate them about physiology anatomy and medicine so that together we can solve their pet's problems together."
• Understanding and sharing knowledge of pain management. "has been a focus of my career."
I knew I wanted to be a vet when:
From the time I was around 11 years old, I knew that this was the career for me. My best friend's dad was a veterinarian and I started out by helping him on his rounds of the farms in our area. I would work for him on weekends and school breaks because I was fascinated by the animal world. I loved fixing the broken animals!
Pets in our lives:
A recent well controlled study done at Mayo Clinic determined that the presence of a pet in the home was a significant factor in increased success and survival in cancer and transplant patients. So science has confirmed what all of us pet people suspect: pets make our lives better and longer! I am honored to have the opportunity to help them help us.
Education:
University of Minnesota 1986 (Top 10)
Personal:
I was raised in Green Bay Wisconsin but was tired of the cold and the grey so I moved to Arizona in 1986. I joined the Animal Care Center team in 1993, became a partner in 1996 and was owner from 2004 through 2017. During my free time I enjoy golf, ATV riding, and water skiing. I spend a large number of weekends supporting my wife's passion. She is a professional barrel racer and trainer. We share our home with our dogs Molly , Pearl, and Stevie, the cat, along with a herd of horses.
"We can judge the heart of a man by his treatment of animals." Immanual Kant German Philosopher